How to Feel & Look Good at Home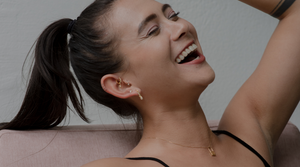 We've got your whole day planned out!
With the Movement Control Order (MCO) upon us in Malaysia once again, it can be hard to ignore the feeling of dread in the air but let's not add to the negativity! Instead, we're going to help you feel like a million bucks… even if you're just binge-watching Netflix on the couch all weekend (no judgment).
7:00AM
Let's start with getting up early! There's nothing better than waking up at the crack of dawn to admire Mother Nature's colouring of the sky. As the yolk of the sun breaks beyond our urban jungle's silhouette, we suggest cracking some eggs (on a non-stick pan!) and attempting your hand at a French Omelette. Creamy, buttery, and oh-so-sinful, this breakfast staple will brighten your day. Try NY times' veteran and celebrity chef, Jacques Pepin, take on this culinary wonder and feel the magic of a boring Thursday morning transform into something luxurious! Tip: add some Boursin cheese for an extra pop of flavour.
8:30AM
Once you're feeling nice and stuffed, drink some coffee… and no, we're not bringing back 2020's Dalgona coffee. When the caffeine high hits, roll out a mat and get stretching. We recommend Yoga with Adriene for a quick and effective workout. Although they seem relatively short, we've got to warn you that your quads are going to be on fire! But who doesn't love a great workout that leaves you feeling a little more accomplished for the day?
10:00AM - 6:00PM
As work rolls in, we believe that looking good will help you feel like you're in charge so throw on a crisp white shirt with a pair of chic black workpants. Then snap on our specially curated WFH Olena set, which includes the Twisted Loose Rope Necklace, Infinity Hoops, and Mini Dotted Huggies that'll make a simple yet sexy statement on all your Zoom calls. Layer a spritz of perfume, as well as a blotted crimson lip and ta da, you're invincible.
9:00PM
Night falls and maybe you're feeling a little melancholic after dinner. Things seem bleak because the world seems to be a standstill where nothing is sure and plans seem temporary. We know that feeling, we truly do but the only thing we know for sure is that everything will be okay. For now? A long phone call, a good read, and nostalgic movies are the best remedies for pre-bed blues. So here are our recommendations: 
For reads: A Year of Magical Thinking by Joan Didion and Humankind: A Hopeful History by Rutger Bregman will transport you to another time and give you some hope in humanity!
For movies: She's the Man and John Tucker Must Die are iconic 2000s chick flicks that'll have you howling with laughter and perhaps, getting *those* jokes you didn't quite understand before. Bonus: rewatch the OC for some Seth and Summer action! (yes we have our favourites) 
So from all of us at Olena to all of you at home, we just want to say— let's get through this one more time and while we're at it, to have some fun in our humble abodes! Sending you love and health always.
About the Author
Cheyenne Beh. Writer. Food aficionado. Lover of all things beautiful. Olena collaborator and part-time fooligan. Cheyenne Beh is a passionate digital creator based in Montreal with a background in advertising who may or may not challenge you to a 70s-inspired dance off at 3AM. Get the memo, yet? Check her out at @cheyennebeh or on her new IG and Youtube channel: @zestofficiel.