Olena is a demi-fine jewellery brand that celebrates the beauty in simplicity, and was founded by cousins Nisa and Alia. Their shared interests in photography, art, nature, and culture has shaped their collaborative styles and aesthetic—this is reflected in their designs.
Inspired by constellation piercings, their collections are crafted to compliment one another. Patterns on some are lifted from traditional motifs and textiles. Others are influenced by more contemporary designs. Their creations are made to elevate the everyday look—level up by layering up.
These understated yet classic pieces of jewellery exudes a silent confidence, which they hope everyone will come to appreciate and love—just as much as they've loved designing them.
Founder's Favourites
They say there's no such thing as having a favourite child. They lied. Here are ours.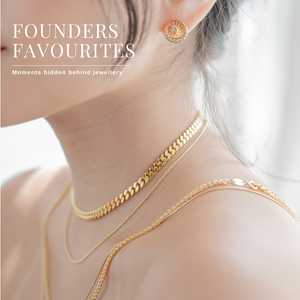 Two women, one guilty pleasure, and a whole lot of stress. That's how Olena Jewellery came to be. Sharing our inspirations and loves of life, here is our top picks from our growing collection.